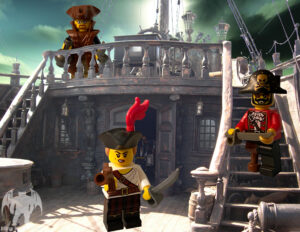 Season 10 roars into port with a slurry photos about Irish Pirates! Celebrating the season opener, Flora grabs the Jameson and Guinness and takes you through some fun history with stories of Irish Pirates. Learn about the likes of Anne Bonny, George Cusack, and Grace O'Malley. Hear the tale of the Ouzel Galley, the ship that disappeared for 5 years leading to a rather happy ending. And join David as he toasts history, podcasting, and you the listener! It's a once-a-year tradition to have a slurry photos episode, so keep that in mind as Flora leaves in the 'outtakes' and stutters. Take a good swig of whiskey, polish that shillelagh, and try not to get too seasick – we're heading to the high seas on this episode of Blurry Photos!
Don't forget to join the Blurry Photos Discord Server!
Watch me stream games on Twitch!
Music
Myst on the Moor, Danse Macabre – Kevin MacLeod (incompetech.com)
Licensed under Creative Commons: By Attribution 3.0
Black Sails – Nicolas Jeudy, Dark Fantasy Studios
Licensed under Creative Commons: By Attribution 3.0
Sources
Pallardy, R.. "Anne Bonny." Encyclopedia Britannica, June 26, 2019. https://www.britannica.com/biography/Anne-Bonny.

Abbott, Karen. If There's a Man Among Ye: The Tale of Pirate Queens Anne Bonny and Mary Read. Smithsonian Mag Website. Aug 9, 2011. Web. https://www.smithsonianmag.com/history/if-theres-a-man-among-ye-the-tale-of-pirate-queens-anne-bonny-and-mary-read-45576461/

The Grand pyrate, or, The life and death of Capt. George Cusack, the great sea-robber with an accompt of all his notorious robberies both at sea and land : together with his tryal, condemnation, and execution / taken by an impartial hand. Impartial hand. London: Printed for Jonathan Edwin 1676. Web. https://quod.lib.umich.edu/e/eebo/A41761.0001.001/1:3?rgn=div1;view=fulltext

Falkiner, C Litton. Illustrations of Irish History and Topography. Longmans, Green, and Co. London, 1904. Pgs. 203-208.

Curzon, Catherine. Grace O'Malley, the Fearless 16th-Century Irish Pirate Queen Who Stood Up to the English. Mental Floss. Jan 30, 2019. Web. https://getpocket.com/explore/item/grace-o-malley-the-fearless-16th-century-irish-pirate-queen-who-stood-up-to-the-english
Ireland History. Grainne Mhaol – Pirate Queen of Connacht – Behind the Legend. Ireland History. Web. https://www.historyireland.com/early-modern-history-1500-1700/grainne-mhaol-pirate-queen-of-connacht-behind-the-legend/
O' Dowd, Mary. Grainne O'Malley. Oxford Dictionary of National Biography. Jan 3, 2008. Web. https://www.oxforddnb.com/view/10.1093/ref:odnb/9780198614128.001.0001/odnb-9780198614128-e-20753
Click here to download the Episode!