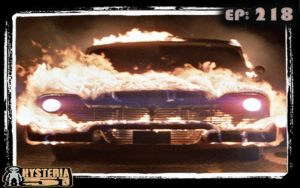 Flora lets the boys of Hysteria 51 takeover the feed for a bonus episode about "the most evil car in America!"
What's the most evil car in America? Is it a 90's white Bronco? Perhaps one of those semis that spilled 1000s of gallons of booze all of the highway? The PT Cruiser? All good guesses but no, the most evil car in America is…a 1964 Dodge 330 L.E. nicknamed The Golden Eagle. While that might sound anticlimactic, this bad boy is said to have a killed a minimum of 14 people and perhaps a lot more. This week life is a highway and we wanna ride it all night long as we explore the Most Evil Car in America. Plus, the fellas debate the best evil cars in cinematic history, Kyle thinks he's the computer on the Enterprise (1701-D obviously), and John lectures us all on the right way to dispose of evil machinery. All of that and more on the podcast that knows a thing or two about building machines that wind up evil – Hysteria 51.
Special thanks to this week's research sources: 
Books
Christine | Stephen King
Videos
5 Scariest Car Stories – https://youtu.be/w9v2lKAgczA
Christine – https://www.imdb.com/title/tt0085333/
Rockwell Retro Encabulator – https://youtu.be/RXJKdh1KZ0w
Websites
EelKat.com – https://www.eelkat.com/
Christine – https://en.wikipedia.org/wiki/Christine_(1983_film)
Jalopnik – https://jalopnik.com/meet-the-golden-eagle-the-car-claimed-to-have-killed-a-1830037928
Auto Evaluation – https://www.autoevolution.com/news/1964-dodge-golden-eagle-killed-at-least-14-people-puts-christine-to-shame-129779.html
Motor Biscuit – https://www.motorbiscuit.com/1964-dodge-330-le-rumored-to-be-deadliest-car-in-america/
Woodside Credit – https://www.woodsidecredit.com/mysteries-surrounding-5-classic-cars/
Tiny Jump (Via WayBack Machine) – http://tinyjump.com/the-goldeneagle-faq-why-do-people-believe-this-car-is-haunted-cursed-or-possessed/
Follow Hysteria 51
Website – http://hysteria51.com/
Facebook – https://www.facebook.com/groups/Hysteria51
Twitter – https://twitter.com/Hysteria51Pod
Instagram – https://www.instagram.com/hysteria51podcast/
Click here to download the Episode!