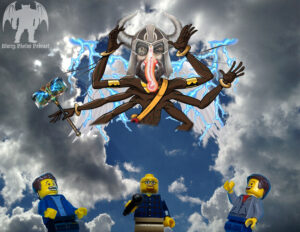 David welcomes Art and Andy from Mr Bunker's Conspiracy Time Podcast to discuss Project Blue Beam! A wild conglomeration of conspiracies and red flags, Project Blue Beam is a theory on how the NWO will bring the world together via holograms. Art and Andy join to sift through all the absolute wildness. And believe us, there is a lot of wildness. Learn about the sodium layer, the holograms, the camps, the antichrist, and whatever else you can think of for the end of freedom as we know it. Listen to Art and Andy try to suss out the red flags and out there theories then go give them some love on their show. And make sure to donate to the church of Floranarianism by hitting subscribe, donate, Ko-Fi, Patreon, and more to keep episodes of Blurry Photos well-stocked for the coming end of times!
Join me on Twitch to watch some horror games and other fun content!
Music
Myst on the Moor, Danse Macabre – Kevin MacLeod (incompetech.com)
Licensed under Creative Commons: By Attribution 3.0
Click here to download the Episode!