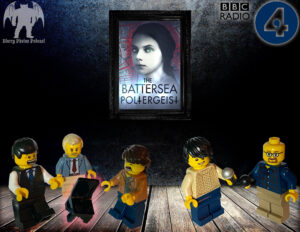 BBC Radio 4's Danny Robins joins Blurry Photos to discuss his new podcast series The Battersea Poltergeist! A haunting in 1950's south London, the Battersea Poltergeist made the front pages then and made life for the Hitchings family unbearable. David welcomes producer, writer, and presenter Danny Robins on the show to talk about the case and his new podcast. The podcast includes a wonderful variety of investigation, interviews, and dramatic reenactments. Flora asks Danny about his experiences and journalism while making the show. It's a fascinating case brought to life by Danny and some great actors, including Burn Gorman, Dafne Keen, Toby Jones, and more! Listen to this interview and then download the series and binge away!
Thanks to Danny and BBC Radio 4 for the use of episode clips, art, and the music of Nadine Shah!
Don't forget to join the Blurry Photos Discord Server!
Watch me stream games on Twitch!
Music
Myst on the Moor – Kevin MacLeod (incompetech.com)
Licensed under Creative Commons: By Attribution 3.0
Battersea Poltergeist Sources
[podcast src="https://html5-player.libsyn.com/embed/episode/id/18277538/height/90/theme/custom/thumbnail/no/direction/forward/render-playlist/no/custom-color/36ae74/" width="100%" height="90″ scrolling="no" class="podcast-class" frameborder="0″ placement="bottom" use_download_link="use_download_link" download_link_text="" primary_content_url="http://chtbl.com/track/7E11GF/traffic.libsyn.com/blurryphotos/Battersea.mp3″ theme="custom" custom_color="#36ae74″ libsyn_item_id="18277538″ /]