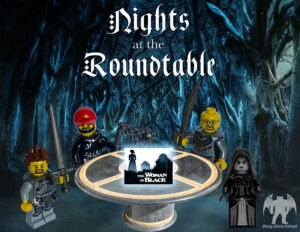 The gentlemen return to the roundtable to discuss the 1989 made-for-TV British film The Woman in Black! A Christmas Eve special in 1989, The Woman in Black graced British TV sets and immediately cemented itself in the nightmares of folks from then on. David brings this classic (?) flick to the table and the boys talk about their likes/dislikes. SPOILER alert, as the entire plot of this and the 2012 remake are discussed in detail! Speaking of the remake, David also discusses the differences between the old one and the new one. How did Derek and Zenger like it? Is it worth a watch? How much patience does a person need to sit through this entire thing? All this and more is discussed on this bonus Nights at the Roundtable on Blurry Photos!
Don't forget to check out another roundtable while you're at it.
Find the film here
Find Derek at Monsters Among Us
Find Zenger at Zeng This!
[podcast src="https://html5-player.libsyn.com/embed/episode/id/24743208/height/90/theme/custom/thumbnail/no/direction/forward/render-playlist/no/custom-color/36ae74/" width="100%" scrolling="no" class="podcast-class" frameborder="0″ placement="bottom" primary_content_url="http://chtbl.com/track/7E11GF/traffic.libsyn.com/blurryphotos/NatRTWoBlack.mp3″ libsyn_item_id="24743208″ height="90″ theme="custom" custom_color="#36ae74″ player_use_thumbnail="" use_download_link="use_download_link" download_link_text="" /]