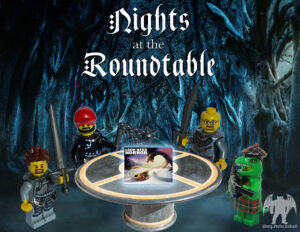 Derek blows the horn to assemble the roundtable for a review of the 1981 film The Loch Ness Horror! An indie film with Nessie as its star, The Loch Ness Horror is a campy horror flick with some hilarious moments. Derek, Zenger, and David go over their favorite and least favorite parts. How much Scottish accent is too much for Lake Tahoe? The boys try their best to explain the plot and pick out some positivity. If you like camp and decently-made super low budget works, check this one out – it's free on YouTube! And check out another roundtable while you're at it.
Find the film on YouTube The Loch Ness Horror
Find Derek at Monsters Among Us
Find Zenger at Zeng This!
#Sponsored
I've partnered with Manscaped to bring a special offer for Blurrievers!
Get 20% OFF @manscaped + Free Shipping with promo code BLURRYPHOTOS at MANSCAPED.com! #ad #manscapedpod
Check out Manscaped.com for great grooming stuff and get 20% off + free shipping with my code "BlurryPhotos"
Music
Myst on the Moor, Backbay Lounge – Kevin MacLeod (incompetech.com)
Licensed under Creative Commons: By Attribution 3.0[podcast src="https://html5-player.libsyn.com/embed/episode/id/21485918/height/90/theme/custom/thumbnail/no/direction/forward/render-playlist/no/custom-color/36ae74/" width="100%" scrolling="no" class="podcast-class" frameborder="0″ placement="bottom" primary_content_url="http://chtbl.com/track/7E11GF/traffic.libsyn.com/blurryphotos/NatRTNessie.mp3″ libsyn_item_id="21485918″ height="90″ theme="custom" custom_color="#36ae74″ player_use_thumbnail="" use_download_link="use_download_link" download_link_text="" /]