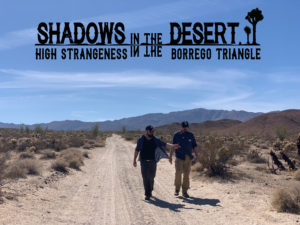 The Kickstarter campaign for "Shadows in the Desert: High Strangeness in the Borrego Triangle" is live! Visit the Kickstarter campaign page to make a contribution toward funding this amazing project. David and Derek have only just begun the journey to making a fascinating and unique new documentary about the anomalous phenomena in the Anza-Borrego desert. But they need your help to make this vision come to life! If you contribute to their campaign, not only will you help them achieve their goal, you'll also get some cool stuff! T-shirts, patches, adventure bags, art, even your name in the credits! Not to mention an exclusive podcast that will offer behind the scenes discussion and updates. The campaign only lasts 30 days, you don't want to miss out. So check out the Shadows in the Desert campaign page, watch the trailer, and contribute to a great indie project by Blurry Photos and Monsters Among Us!
Music
Myst on the Moor – Kevin MacLeod (incompetech.com)
Licensed under Creative Commons: By Attribution 3.0

Click here to download the Episode!