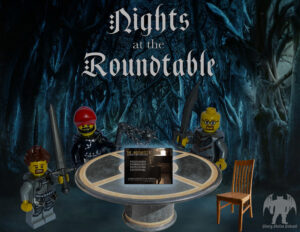 The boys are back at the roundtable to discuss the short film The Undeparted! Labeled "an award-winning documentary film about spirits, attachments, and people," The Undeparted is short, sweet, and spooky. Derek Hayes from Monsters Among Us and Justin Zenger of Zeng This! join Flora to review this fun little film. Focusing on an antique shop in Sand Hill, Marriottsville, MD, director Chris McGuinness learns there's more out there to used furniture than good designs and a few scruff marks. The realization leads him to discover paranormal attributes and attachments unique to the little corner shop and its owners. The film documents his and the owners' experiences in trying to learn more about the spirits who have, as yet, not departed this world. The boys discuss their likes/dislikes of the film and wax philosophical on paranormal activity, mediums, and many more topics inspired by Chris' film. Watch it yourself and see what you think! And check out another roundtable while you're at it.
Find the film on YouTube The Undeparted
Find Derek at Monsters Among Us
Find Zenger at Zeng This!
Music
Myst on the Moor – Kevin MacLeod (incompetech.com)
Licensed under Creative Commons: By Attribution 3.0
[podcast src="https://html5-player.libsyn.com/embed/episode/id/20520707/height/90/theme/custom/thumbnail/no/direction/forward/render-playlist/no/custom-color/36ae74/" width="100%" scrolling="no" class="podcast-class" frameborder="0″ placement="bottom" primary_content_url="http://chtbl.com/track/7E11GF/traffic.libsyn.com/blurryphotos/NatRT_Undeparted.mp3″ libsyn_item_id="20520707″ height="90″ theme="custom" custom_color="#36ae74″ player_use_thumbnail="" use_download_link="use_download_link" download_link_text="" /]