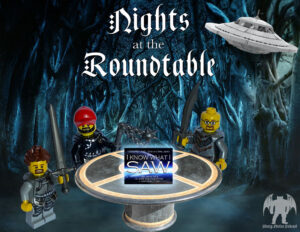 Back at the roundtable, the boys discuss the 2009 film I Know What I Saw. Written and directed by James Fox, I Know What I Saw is a documentary about UFO witnesses and investigators around the world and their experiences in ufology. David, Derek, and Zenger talk about how well the film has stood up in the decade since its release. Decent interviews and decent pace keep attentions for this one. The boys are pleasantly surprised on this episode of Nights at the Roundtable on Blurry Photos!
Don't forget to check out another roundtable while you're at it.
Find Derek at Monsters Among Us
Find Zenger at Zeng This!
[podcast src="https://html5-player.libsyn.com/embed/episode/id/26559072/height/90/theme/custom/thumbnail/no/direction/forward/render-playlist/no/custom-color/36ae74/" width="100%" scrolling="no" class="podcast-class" frameborder="0″ placement="bottom" primary_content_url="http://chtbl.com/track/7E11GF/traffic.libsyn.com/blurryphotos/i_know_what_rtable.mp3″ libsyn_item_id="26559072″ height="90″ theme="custom" custom_color="#36ae74″ player_use_thumbnail="" use_download_link="use_download_link" download_link_text="" /]