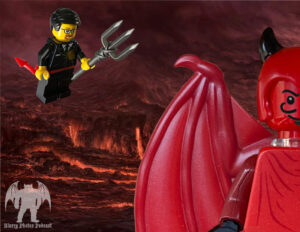 David is back with the conclusion of the Devil and the history attached to him! Covering other cultures, names, looks, and breakdowns of the info, the Devil gets fleshed out and examined in great detail. We pick back up with various forms of Evil in other cultures through history. Then many of the countless names of this entity are dissected and examined, paying careful attention to the origins of each. The several iterations of looks are discussed after that. And finally the episode concludes with analysis of the research and how it has influenced cultures through the ages. What was the actual purpose of this being? How has it evolved? And what conclusions can you draw from the information? David ends with opinion based on the facts, and encourages you to take a thoughtful examination of them for yourself. It's the finish of one of the biggest episodes in Blurry Photos history, one that hopefully teaches you something new and gives you perspective you never knew you were missing!
Don't forget to watch me stream games on Twitch!
Sources
Wray, T.J., and Mobley, Gregory. The Birth of Satan: Tracing the Devil's Biblical Roots. St. Martin's Publishing Group, 2014. Kindle edition.
Messadie, Gerald. A History of the Devil. Kodansha Globe Publishing. New York, NY. 1996.
Russell, Jeffrey Burton. The Devil: Perceptions of Evil from Antiquity to Primitive Christianity. Ithaca, NY: Cornell University Press. 1977. 176-77.
Russell, Jeffrey Burton. The Prince of Darkness: Radical Evil and the Power of Good in History. Ithaca, N.Y.: Cornell University Press, 1988. Pg 19.
Staff. Demons and Demonology. Jewish Virtual Library. Web. https://www.jewishvirtuallibrary.org/demons-and-demonology
Szpakowska, Kasia. (2009). Demons in Ancient Egypt. Religion Compass. 3. 799 – 805. 10.1111/j.1749-8171.2009.00169.x.
Chrissy. Evil Greek Gods and Goddesses. Greece Travel Ideas. Feb. 6, 2021. Web. https://greecetravelideas.com/evil-greek-gods-and-goddesses/
Jastrow, Jr., Morris, Levi, Gerson, Jastrow, Marcus, Kohler, Kaufmann. Belial. Jewish Encyclopedia. 2021. Web. https://www.jewishencyclopedia.com/articles/2805-belial
Grafton, Anthony, and Most, Glenn, and Settis, Salvatore. The Classical Tradition. The Belknap Press of Harvard University. Cambridge, MA and London, England. 2010.
Dallaire, Glenn. Sister Magdalena of the Cross. Mystics of the Church Website. Dec. 10, 2011. Web. https://www.mysticsofthechurch.com/2011/12/sister-magdalena-of-cross-nun-who-made.html
Plaisted, David. Estimates of the Number Killed by the Papacy in the Middle Ages and Later. 2006. http://static1.1.sqspcdn.com/static/f/827989/15116787/1321289366180/50+million+protestants+killed.pdf
Hicks, Robert D. In Pursuit of Satan: the police and the occult. Prometheus Books. Buffalo, NY. 1991. Pg. 55.
Music
Asian Drums, Beach Party, Danse Party, Dark Fog, Desert Fox, Dhaka, Lightless Dawn, Northur, Red Tears, Temple of the Manes, Tikopia, Wizardtorium – Kevin MacLeod (incompetech.com)
Licensed under Creative Commons: By Attribution 3.0
Garden of Gethsemane – Co.Ag Music
Link: https://www.youtube.com/@co.agmusic1823/featured
Licensed under Creative Commons: By Attribution 3.0
Libera me, Pascha Nostrum, Amen, Sanctus, Sicut Ilium inter spinas – Messa di Requiem
The Tudor Consort
Attribution: http://creativecommons.org/licenses/by/3.0/
[podcast src="https://html5-player.libsyn.com/embed/episode/id/26336256/height/90/theme/custom/thumbnail/no/direction/forward/render-playlist/no/custom-color/36ae74/" width="100%" scrolling="no" class="podcast-class" frameborder="0″ placement="bottom" primary_content_url="http://chtbl.com/track/7E11GF/traffic.libsyn.com/blurryphotos/Devil2.mp3″ libsyn_item_id="26336256″ height="90″ theme="custom" custom_color="#36ae74″ player_use_thumbnail="" use_download_link="use_download_link" download_link_text="" /]