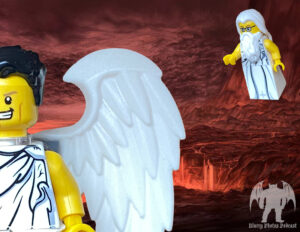 Flora begins an epic deep dive into the history of the Devil with the first of a 2-part episode! Known the world over as the arch-fiend of all that is good, the Devil enjoys a sinister reputation, but is it truly deserved? Join David on a journey through history as he presents his research on this figure of malevolence. In part 1, David begins with the earliest mentions of Satan, including cultural inspirations. Both the Old and New Testaments of the Christian Bible are referenced as well as Hebrew scriptures and apocrypha not included in the Biblical canon. Ancient mythologies of Sumer, Babylon, and Persian Zoroastrianism are explored for their evil figures. And Jason from the Dragons in Genesis podcast joins to offer perspective throughout. Part 2 will explore evil in other cultures around the world, the many names of Satan and their origins, his looks, and conclusions which can be drawn from the information. It's a comparative mythology smorgasbord on this episode of Blurry Photos!
Don't forget to watch me stream games on Twitch!
Sources
Wray, T.J., and Mobley, Gregory. The Birth of Satan: Tracing the Devil's Biblical Roots. St. Martin's Publishing Group, 2014. Kindle edition.
Britannica, T. Editors of Encyclopaedia. The War of the Sons of Light Against the Sons of Darkness. Encyclopedia Britannica, July 20, 1998. Web. https://www.britannica.com/topic/The-War-of-the-Sons-of-Light-Against-the-Sons-of-Darkness
Messadie, Gerald. A History of the Devil. Kodansha Globe Publishing. New York, NY. 1996.
Russell, Jeffrey Burton. The Devil: Perceptions of Evil from Antiquity to Primitive Christianity. Ithaca, NY: Cornell University Press. 1977. 176-77.
Kaplan, Arielle. Meet Judaism's Demons, Spirits, Witches, and Ghosts. Hey Alma website. Oct. 28, 2020. Web. https://www.heyalma.com/meet-judaisms-demons-spirits-witches-ghosts/
Dhalla, Dasturji Dr. Manekji Naserwanji. Temptation of Zarathushtra. Parsi Times. Oct. 16, 2016. Web. https://parsi-times.com/2016/10/temptation-of-zarathushtra/
Staff. Demons and Demonology. Jewish Virtual Library. Web. https://www.jewishvirtuallibrary.org/demons-and-demonology
Halsall, Paul. Medieval Sourcebook: Twelfth Ecumenical Council: Lateran IV 1215. Internet Medieval Source Book. Fordham University, Mar. 1996. Web. https://sourcebooks.fordham.edu/basis/lateran4.asp
DeFoe, Daniel. A Political History of the Devil. London. Printed at The Black Boy in Pater-noster. 1726. Retrieved from the Web. https://www.online-literature.com/defoe/history-of-the-devil/19/
Music
Halls of the Undead – Kevin MacLeod (incompetech.com)
Licensed under Creative Commons: By Attribution 3.0
Dark Lord, I Will Play my Music, My Sins will Wake the Dead, Satanic, Somehow Satan got Behind Us – Co.Ag Music
Link: https://www.youtube.com/@co.agmusic1823/featured
Licensed under Creative Commons: By Attribution 3.0
The Abyss, Consecrated Ground by Alexander Nakarada
Link: https://filmmusic.io/song/4770-traveler
License: https://filmmusic.io/standard-license
[podcast src="https://html5-player.libsyn.com/embed/episode/id/25779153/height/90/theme/custom/thumbnail/no/direction/forward/render-playlist/no/custom-color/36ae74/" width="100%" scrolling="no" class="podcast-class" frameborder="0″ placement="bottom" primary_content_url="http://chtbl.com/track/7E11GF/traffic.libsyn.com/blurryphotos/Devil1.mp3″ libsyn_item_id="25779153″ height="90″ theme="custom" custom_color="#36ae74″ player_use_thumbnail="" use_download_link="use_download_link" download_link_text="" /]