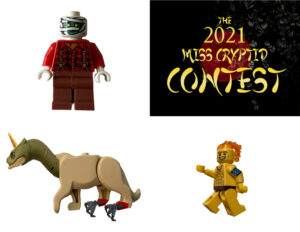 This year's Miss Cryptid Contest winds to a close with our final 3 contestants! Another smattering of worldly folklore is in store with the Mushussu, Oregon Bandage Man, and Curupira. Join David as he takes you to ancient Sumeria to learn about the Splendor Serpent. Hop over to Oregon for a short but terrifying urban legend. And head back to South America for a wild man of the rainforest. Who will win your heart this week, and who will eat it? Cast your vote at the Home Page for who should join the finalists in the quest for the Golden Goatman! Learn about these critters and find out who won week 2 all in this episode of Blurry Photos!
Music
Danse Macabre, Myst on the Moor, Suvaco do Cristo, Hidden Wonders, One of Them – Kevin MacLeod (incompetech.com)
Licensed under Creative Commons: By Attribution 3.0
Sources
Sirrush. All About Dragons. Web. https://allaboutdragons.com/dragons/Sirrush

Clark, Jerome. Unexplained! Visible Ink Press. Detroit. 1993.
Tritone. Bandage Man, Cannon Beach, Oregon. Puzzle Box Horror. Web. https://

puzzleboxhorror.com/encyclopedia-of-supernatural-horror/bandage-man-cannon-
beach-oregon/

Riddings. Silence in the Forest. Pacific Appeal Newspaper. San Francisco. June 5th,
1875. Retrieved from the CA Digital Newspaper Collection. Web. https://cdnc.ucr.edu/?

a=d&d=PA18750605.2.3&e=——187-en–20-PA-1–txt-txIN-
pacific+appeal+june—-1875—1
Click here to download the Episode!