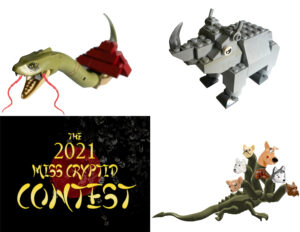 The carnage continues with week 2 of the 2021 Miss Cryptid Contest! Flora is back with 3 more fiends for you: the Karkadann, Lou Carcolh, and Teju Jagua. Add more miles to your frequent flyer card as Blurry Photos takes you from Persia to France to Paraguay. You like monstrous rhinos? Check. Monstrous snails? Cheque. Monstrous lizards with 7 dog heads? Check Check Check Check Check Check Check! Legends, history, and mythology collide in the second week of competition. The winner of week 1 is also announced on this fun edition of Blurry Photos!
Music
Danse Macabre, Myst on the Moor, Kasumi, Dhaka, Duet Musette – Kevin MacLeod (incompetech.com)
Licensed under Creative Commons: By Attribution 3.0
Sources
Ettinghausen, Richard. The Unicorn. Smithsonian. Washington 1950. https://asia.si.edu/wp-content/uploads/2017/06/ettinghausen-unicorn.pdf

Al-Biruni. Kitab al-Bīrūnī fī Taḥqīq mā li-al-Hind, Hyderabad: Osmania Oriental Publication Bureau, 1958.

Rose, C., 2001. Giants, monsters, and dragons: An encyclopedia of folklore, legend, and myth. WW Norton & Company.

Bane, T., 2016. Encyclopedia of Beasts and Monsters in Myth, Legend and Folklore. McFarland.

Holloway, April. The Gods of Creation and Legendary Beasts of the Guarani. Ancient Origins. April 22, 2015. Web. https://www.ancient-origins.net/myths-legends-americas/gods-creation-and-legendary-beasts-guarani-002937
Click here to download the Episode!