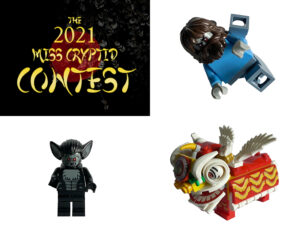 Grease the cage hinges and wipe down your goggles, it's time once again for the greatest freak show on the earth as we launch the 2021 Miss Cryptid Contest! Kicking off this year's Miss Cryptid Contest is a panoply of profligates starting with the Imbunche, Pixiu, and Tokoloshe. It's an international smorgasbord with contestants from Chile, China, and South Africa. Learn about the witchcraft dealings of the warlocks who make Imbunche. Know where to place your statues for good fortune with the Pixiu. And hear how to avoid nighttime attacks of the Tokoloshe. Flora begins another trip round the world and it's up to you to pick a winner to move to the finals! And don't forget to cast a vote for your chance to win a prize pack courtesy of Blurry Photos!
Music
Danse Macabre, Myst on the Moor, Infados, Sardana, Shenyang – Kevin MacLeod (incompetech.com)
Licensed under Creative Commons: By Attribution 3.0
Sources
Dash, Mike. Into the Cave of Chile's Witches. Smithsonian Magazine. Feb. 19, 2013. Web. https://www.smithsonianmag.com/history/into-the-cave-of-chiles-witches-20138093/

Legend of Pixiu. Visit Beijing. Web. http://english.visitbeijing.com.cn/a1/a-XAJAGWC6AFB2BD9E29D411#:~:text=Pixiu%20(also%20called%20Tianlu%20or%20Bixie)%20is%20one%20of%20the,and%20is%20able%20to%20fly

The South African Tokoloshe. Africa Road Travel. May 21, 2011. Web. https://africaroadtravel.com/2011/05/21/the-south-african-tokoloshe/
Click here to download the Episode!