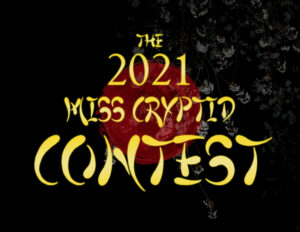 The 2021 Miss Cryptid Contest is almost over, and the best is saved for last in this finalist roundup! The winner of week 3 is announced, the finalists are set, and now it's up to you to decide who should emerge victorious in this Miss Cryptid Roundup! Hear who joins the winners of weeks one and two in the quest for the Golden Goatman. Make sure to cast your vote at the Blurry Photos homepage and toss in one more entry for the Prize Pack. One lucky winner will receive a box of fun paranormal toys, Blurry Photos swag, and more. There will also be a Runner-up who will win a Blurry Photos T-Shirt and swag. And one more entrant will win Miss Congeal-niality, receiving stickers and magnets and such! Go forth and choose a champion, whose blood, sweat, and tears will mean more than just a snack to others!
Music
Danse Macabre, Myst on the Moor, One of Them, Duet Musette, Shenyang – Kevin MacLeod (incompetech.com)
Licensed under Creative Commons: By Attribution 3.0
Sources
Legend of Pixiu. Visit Beijing. Web. http://english.visitbeijing.com.cn/a1/a-XAJAGWC6AFB2BD9E29D411#:~:text=Pixiu%20(also%20called%20Tianlu%20or%20Bixie)%20is%20one%20of%20the,and%20is%20able%20to%20fly

Rose, C., 2001. Giants, monsters, and dragons: An encyclopedia of folklore, legend, and myth. WW Norton & Company.

Bane, T., 2016. Encyclopedia of Beasts and Monsters in Myth, Legend and Folklore. McFarland.

Tritone. Bandage Man, Cannon Beach, Oregon. Puzzle Box Horror. Web. https://puzzleboxhorror.com/encyclopedia-of-supernatural-horror/bandage-man-cannon-
beach-oregon/
Click here to download the Episode!