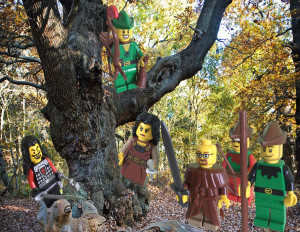 Lythe and listin, gode Blurrievers,
if ye but only could,
the boyes of Blurry Photos
speak tayls of Robin Hood!
A faymosse thief was Robin Hood,
whose dedes are worldly knowne,
yet was he man or mythe or wat
wouldst histry have hym showne?
Thos daryng, dashyng, handsom prynces
David and yon Dave,
hav delvd into this reserch deepe
to studdye on this knave.
Who was this man, what were his tayls,
and was he evn reale?
What do the histry bookes contayne,
and what has tyme revealede?
Com gathr ye yon bowe and staffe,
and Lincoln green-ed clothes,
a bettr poddcastte there are none
than this, Blurry Photos!
(A goodely resours, Fynd tayls here, A literary educationne)
With music by Kevin MacLeod