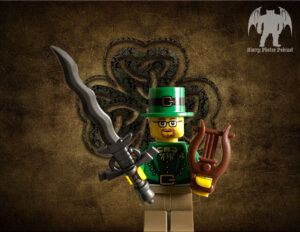 David is back and kicking off with some Irish mythical artifacts! The rich mythology of the Emerald Isle has many Irish mythical artifacts supplementing its heroes and legends, and Flora brings you 15 to discuss! Not only from Ireland, but the rest of the British Isles as well. Swords, cauldrons, harps, stones – there's a little bit of everything! David breaks down three types of artifacts and talks about five different objects in each section. There are objects of war, objects of benevolence, and objects of nobility. It's a fun list episode of Blurry Photos to kick off season 12!
Don't forget to watch me stream games on Twitch!
Listen to "Ep 275: Irish Mythical Artifacts" on Spreaker.
Sources
Loomis, Roger Sherman, and Jean Stirling Lindsay. "The Magic Horn and Cup in Celtic and Grail Tradition." Romanische Forschungen 45 (1931): 66–94. http://www.jstor.org/stable/27935903.
https://mythicalireland.com/blogs/myths-legends/an-irish-myth-concordance-m-z
https://emeraldisle.ie/the-fomorians
https://books.google.com/books?id=RAnoDwAAQBAJ&pg=PA117&lpg=PA117&dq=ochain+shield+irish+mythology&source=bl&ots=G4kaUkBYX0&sig=ACfU3U1Pl6BNk24FB1-A4AlT5LBU7TlVtA&hl=en&sa=X&ved=2ahUKEwiEhaTTg4qAAxWkJkQIHZXdAQ44HhDoAXoECAQQAw#v=onepage&q=ochain%20shield%20irish%20mythology&f=false
https://www.gutenberg.org/files/16464/16464-h/16464-h.htm
https://www.sacred-texts.com/neu/celt/mfli/mfli20.htm
https://www.sacred-texts.com/neu/celt/gafm/gafm07.htm
https://www.ireland-information.com/irish-mythology/manannan-irish-legend.html
https://www.monsalvat.no/celtic-legends.htm
https://emeraldisle.ie/aoibhell-fairy-queen-of-love
https://bardmythologies.com/bran/
Music
Morgana Rides, Danse Macabre – Kevin MacLeod (incompetech.com)
Licensed under Creative Commons: By Attribution 3.0