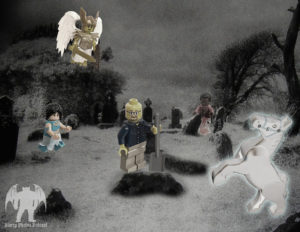 Kick off Blurry Photober with a 2-part episode all about vengeful ghosts! The souls of those wronged and/or murdered in life have a way of avenging their mistreatment as vengeful ghosts. Flora runs you through a short list of these types of spirits in the first of a 2-parter. Go continent hopping and learn some highlights from many different cultures. Learn some important lessons from the Churel, Ngozi, La Sayona, Chindi, and more. Keep that roving eye under control, and for goodness' sake don't plot divorce against your spouse. Hear these tips and lots more on this episode of Blurry Photos!
Don't forget to join the Blurry Photos Discord Server!
Watch me stream games on Twitch!
Music
Myst on the Moor, Asian Drums, Awkward Meeting, Birch Run, Blue Sizzle, Cambodian Odyssey, Digya, Indore, Night of the Owl, Sancho Panza gets a Latte, Temple of the Manes, Unnatural Situation, Danse Macabre – Kevin MacLeod (incompetech.com)
Licensed under Creative Commons: By Attribution 3.0
Sources
Ansky, S., and Golda Werman. The Dybbuk and Other Writings by S. Ansky. Edited by David G. Roskies, Yale University Press, 2002. JSTOR, www.jstor.org/stable/j.ctt32bvcc. Accessed 13 Oct. 2020.

Ball, Charles. Fifty Years in Chains. H. Dayton, Publisher. 1859. https://docsouth.unc.edu/fpn/ball/ball.html

Michaelson, Jay. Demons, Dybbuks, Ghosts, & Golems. My Jewish Learning. Web. https://www.myjewishlearning.com/article/demons-dybbuks-ghosts-golems/

https://alchetron.com/Phi-Tai-Hong

https://enacademic.com/dic.nsf/enwiki/11757501

http://www.scielo.org.za/pdf/ids/v45n1/10.pdf

https://www.anticipationvilla.com/post/2016/10/27/jamcian-ghosts-the-duppy

https://www.wattpad.com/776281359-big-book-of-mythology-spanish-edition-sihuanaba

https://www.theoi.com/Daimon/Nemesis.html

https://seeksghosts.blogspot.com/2014/04/scandinavians-myling.html

https://www.jewishvirtuallibrary.org/dibbuk-dybbuk
Click here to download the Episode!