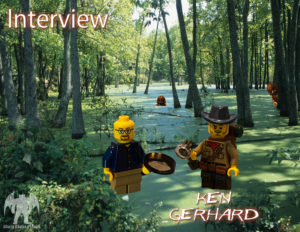 David welcomes the author of The Essential Guide to Bigfoot, Ken Gerhard, for an interview about the classic hairy hominid! An accomplished cryptozoologist and author, Ken Gerhard joins to discuss his newest work The Essential Guide to Bigfoot, a primer on hairy hominids around the world. Flora asks Ken about his adventures and thoughts on this famous cryptid. Ken brings years of boots on the ground research to the discussion. It's a good foray into the lore of the king of all cryptids! Make sure to pick up a copy of his book with the link below and check out his other works. Enjoy this fun interview episode of the Blurry Photos Podcast!
Pick up a copy of Ken's Book HERE (I get a monetary high-five from Amazon through this link)
Thanks to everyone for backing my documentary project, Shadows in the Desert. We met and exceeded our goal for funding! Pre-production has begun, and plans are being made to get the project off the ground and ready for when travel resumes. Thanks for everyone's help getting this going! We really appreciate it!
Music
Myst on the Moor – Kevin MacLeod (incompetech.com)
Licensed under Creative Commons: By Attribution 3.0
[podcast src="https://html5-player.libsyn.com/embed/episode/id/14136875/height/90/theme/custom/thumbnail/no/direction/forward/render-playlist/no/custom-color/36ae74/" width="100%" height="90″ scrolling="no" class="podcast-class" frameborder="0″ placement="bottom" use_download_link="use_download_link" download_link_text="" primary_content_url="http://traffic.libsyn.com/blurryphotos/Gerhard.mp3″ theme="custom" custom_color="#36ae74″ libsyn_item_id="14136875″ /]