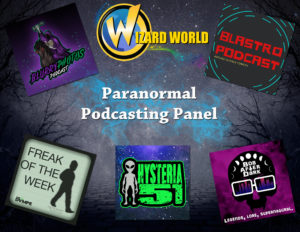 It's a throwback to last year with audio from the Wizard World 2019 panel that David moderated! The Wizard World 2019 panel on paranormal podcasting included various Chicagoland podcasters speaking about the ins and outs of the trade. The event didn't have audio recording of its own, so Flora brought a handheld recorder and picked up the panel. The quality is not the greatest, but it was a fun discussion! The panel featured Dark Mark Soloff of Blastropodcast, Brent Hand of Hysteria 51, Nick Mataragas of Freak of the Week, and Bob Anderson of Bob After Dark. Flora moderated and asked questions of the panelists and fielded questions from the audience. It's a fun distraction between episodes, so enjoy this bonus drop from Blurry Photos!
Music
Myst on the Moor – Kevin MacLeod (incompetech.com)
Licensed under Creative Commons: By Attribution 3.0

Click here to download the Episode!