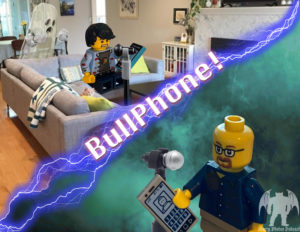 Blurriever and patron David S becomes the show's first Tsoukalos Sound-level supporter and got to jump on a BullPhone call with Flora! David shares his personal experiences from a very haunted west coast town and Flora learns about some Santa Cruz history in this BullPhone. From shadowy figures and recurring spectres to hairless coneheads in the basement, David tells of many hauntings from the places he's called home. There's even a lady in black who stands in the surf on the beach! Don't forget, if you have lots of stories to share or weird news to discuss, you too can be on a BullPhone! The Snort Scream and Tsoukalos Sound levels on Patreon will get you a recording session with Flora, so check it out if you're interested. Pick up a copy of Flora's new audiobook narration, Living Among Bigfoot: Collector's Edition Vol. 1-5, now on Audible! If you don't have an Audible account, you can sign up through the Blurry Photos Audible Affiliate link for a free 30-day trial membership – you get a free audiobook of your choice and Flora gets a book sale! Feel free to cancel any time and still keep the audiobook. Don't forget to review the narration of the book!
Music
Myst on the Moor – Kevin MacLeod (incompetech.com)
Licensed under Creative Commons: By Attribution 3.0
Click here to download the Episode!