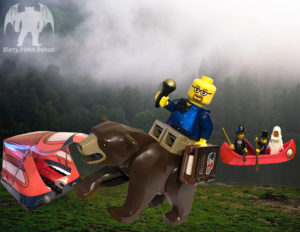 Pack your granola bars, air mattress, and an extra set of pants, it's time to get back outdoors for another installment of Campfire Ghost Stories! Flora reads 4 tales of terror and a poem by a selection of famous authors for the 8th edition of Campfire Ghost Stories. Sir Arthur Conan Doyle, Guy de Maupassant, and Alfred Noyes are among the writers for an early 20th century flavor to this one. A ghostly kiss of death, a highwayman, an out of control car, and more await your ears! It's a fun episode to play at home or in the great outdoors as you sit around a fire and get spooked at every twig snap and owl hoot. Grab a cold one and don't forget the crane janglers for this fun episode of Blurry Photos!
Music
Myst on the Moor, Night of Chaos, Return of Lazarus, Danse Macabre – Kevin MacLeod (incompetech.com)
Licensed under Creative Commons: By Attribution 3.0
Dark Rooms – Music by Co.Ag
Licensed under Creative Commons Attribution 3.0
Sources
Doyle, Arthur Conan. How It Happened. 1918.

Maupassant, Guy de. The Phantom Hag. 1904.

Noyes, Alfred. The Highwayman. 1906.
[podcast src="https://html5-player.libsyn.com/embed/episode/id/16210874/height/90/theme/custom/thumbnail/no/direction/forward/render-playlist/no/custom-color/36ae74/" width="100%" height="90″ scrolling="no" class="podcast-class" frameborder="0″ placement="bottom" use_download_link="use_download_link" download_link_text="" primary_content_url="http://chtbl.com/track/7E11GF/traffic.libsyn.com/blurryphotos/CGS8.mp3″ theme="custom" custom_color="#36ae74″ libsyn_item_id="16210874″ /]