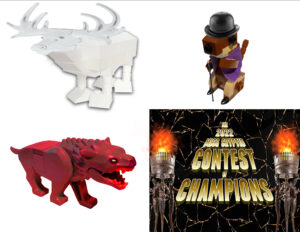 The bloodbath continues with week 2 of the 2022 Miss Cryptid Contest of Champions! This week of the Miss Cryptid Contest features the Specter Moose of Maine, Gef the Talking Mongoose, and the Beast of Gevaudan. A phantasmal legend of a creature. A legendary creature of a phantasm. And a creature phantom of legend. These powerful fiends square off for your adoration and entertainment, but who will move on to the finals and who will have their final fight? It's up to you to decide! And speaking of, we learn who you decided should move on from week 1 to be out first finalist for 2022. The contest is hot and heavy, and you are in the driver's seat – choose wisely!
Make sure to head to the Blurry Photos home page to cast your vote! You can also enter to win a Miss Cryptid prize pack of your very own.
Music
Danse Macabre, Interloper – Kevin MacLeod (incompetech.com)
Licensed under Creative Commons: By Attribution 3.0
Sources
Copeland and Overson. Maine's Specter Moose. Williston Graphic. Williston, ND. Dec. 6, 1900. Print. https://chroniclingamerica.loc.gov/lccn/sn88076270/1900-12-06/ed-1/seq-2/

Weiser-Alexander, Kathy. Specter Moose of Maine. Legends of America. 2018. Web. https://www.legendsofamerica.com/specter-moose-maine/ Boese, Alex. The Specter Moose. Museum of Hoaxes. Aug. 1, 2006. Web. http://hoaxes.org/weblog/comments/the_specter_moose

Heuvelmans, B. On the Track of Unknown Animals. Rupert Hart-Davis, London. 1958.
Click here to download the Episode!