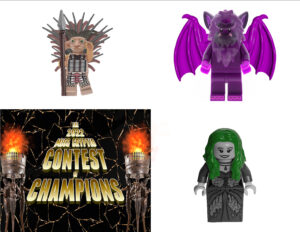 After 9 years of putrid pageantry, the Miss Cryptid Contest is ready to crown an ultimate champion! The 2022 Miss Cryptid Contest of Champions begins with Batsquatch versus Rusalka versus Pukwudgie in a bloodily-beautiful battle royale! This year's contest pits the beast of the beast against each other, as the winners of every contest will vie for your love and votes. Which conqueror will emerge as the ultimate victor? It's up to you to decide! Cast your vote each week for your favorite on the Blurry Photos Home page. And while there, enter your name and email for a chance to win a Prize Pack with a shirt, book, toys, collectibles, candy, and more! You can vote once per week for 4 weeks. Enjoy the best cryptids and a trip down memory lane with old segments going back to 2013 mixed with new ones for some real nostalgia. Good luck, and enjoy the show!
Make sure to head to the Blurry Photos home page to cast your vote! You can also enter to win a Miss Cryptid prize pack of your very own.
Get your own copy of Ronesa Aveela's book A Study of Rusalki – Slavic Mermaids of Eastern Europe, and A Study of Household Spirits of Eastern Europe
Music
Danse Macabre, Myst on the Moor, Heavy Heart, Midnight Tale – Kevin MacLeod (incompetech.com)
Licensed under Creative Commons: By Attribution 3.0
Red Forest by Arthur Vyncke – https://soundcloud.com/arthurvost
Music promoted by https://www.free-stock-music.com
Creative Commons Attribution 3.0 Unported License
https://creativecommons.org/licenses/by/3.0/deed.en_US
Sources
Click here to download the Episode!