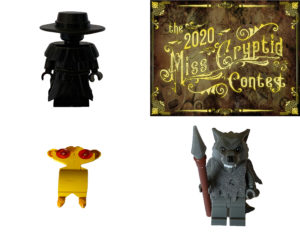 A lone trololo cuts through the night, and that can only mean one thing – it's time once again for the annual Miss Cryptid Contest! Now in its 8th year, the Miss Cryptid Contest opens with the Adlet, the Chiang Rai Scarecrow, and the California Dark Watchers. From the harsh cold of northern North American, to the rice fields of Thailand, to the sunny coast of California, these feral fiends will vie for your attention. They will also fight nonstop for your vote! It's your choice of who moves on to the finals and one step closer to the coveted Golden Goatman trophy. Check the Blurry Photos Home Page for the form to vote for your favorite. You can also have your vote be an entry into this year's Miss Cryptid Prize Pack Sweepstakes. Vote once each week for a total of 4 entries into the Sweepstakes for a prize that includes Blurry Photos swag and a Golden Goatman trophy replica! Special thanks to Derek Hayes of Monsters Among Us Podcast for help this week. Brush off the saddle and coil up the rope – it's time to lasso a lady for the first week of the 2020 Miss Cryptid Contest!
Music
Danse Macabre, Myst on the Moor – Kevin MacLeod (incompetech.com)
Licensed under Creative Commons: By Attribution 3.0
Sources
H. Rink and F. Boas. "Eskimo Tales and Songs", The Journal of American Folk-lore, Volume 2, Number 5, April-June 1889, pages 123-131. Houghton, Mifflin and Company. London. 1889.

Jung, AR. Mythical Creature, 'the Adlet,' an Inuit dog-man from Greenland. ARJungwriter.com, blog. May 9, 2018. Web. https://arjungwriter.com/2018/05/09/mythical-creature-the-adlet-an-inuit-dog-man-from-greenland-with-writing-prompt-amwriting-writingprompt/

CTN News. The Scarecrow of Chiangrai. Chiang Rai Times. June 30, 2011. Web. https://www.chiangraitimes.com/lifestyles/myths-legends/ghostly-scarecrow-of-chiang-rai/

Thailand Scarecrow extraterrestrial. We Are IF blog. Feb 5, 2020. Web. https://www.weareif.biz/2020/02/thailand-scarecrow-extraterrestrial.html?m=1

Staff. The Mysterious Dark Watchers. Beyond Science TV. Aug 1, 2017. Web. beyondsciencetv.com/2017/08/01/the-mysterious-dark-watchers/

Hauck, Dennis William. Haunted Places: The National Directory. Penguin Books. New York. 2002.
[podcast src="https://html5-player.libsyn.com/embed/episode/id/14503106/height/90/theme/custom/thumbnail/no/direction/forward/render-playlist/no/custom-color/36ae74/" width="100%" height="90″ scrolling="no" class="podcast-class" frameborder="0″ placement="bottom" use_download_link="use_download_link" download_link_text="" primary_content_url="http://chtbl.com/track/7E11GF/traffic.libsyn.com/blurryphotos/MC2020Wk1.mp3″ theme="custom" custom_color="#36ae74″ libsyn_item_id="14503106″ /]