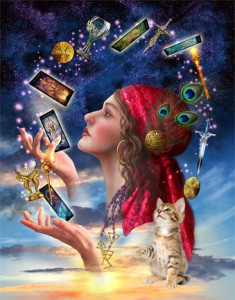 What better way to celebrate the 50th episode of Blurry Photos than consulting one of the most well-known oracles around, the Tarot. Flora and Stecco tackle the history, mythology, and meaning of the infamous cards, and even do readings for each other (for science). Yet another piece of misunderstood and maligned mysticism, the Tarot has mysterious and unknown beginnings and survives today on the popularity of its use as a divination tool. The Davids set the record straight on a few stereotypes and offer some enlightening and entertaining examples of readings. You're going to like the look of the spread Blurry Photos have dealt in this giant 50th podcast episode!
With Music by Kevin MacLeod and beats by David Flora.
On a side note, due to scheduling crap, Blurry Photos will not have an episode out next week on the 10th, but will be back on the 17th with all your listener mail/puns.