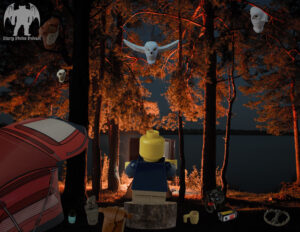 David is back with some more creepy campfire ghost stories! In the tenth installment of campfire ghost stories, you'll hear a classic Blackwood tale, a couple riddles, and a Baudelaire poem. A creepy tale of not getting too into your homework kicks it off. A couple of short riddles add to the fun. And a spooky, atmospheric story by Algernon Blackwood anchors the episode. Grab a sleeping bag and zip up tight – the woods get dark and cold quickly these days, and Blurry Photos might chill some bones as well!
Don't forget to watch me stream games on Twitch!
Sources
Blackwood, Algernon.: The Empty House. Retrieved from American Literature website. 1906. https://americanliterature.com/author/algernon-blackwood/short-story/skeleton-lake-an-episode-in-camp
Baudelaire, Charles. A Corpse. 1857.
Music
Hidden Truth, Danse Macabre, Inner Sanctum – Kevin MacLeod (incompetech.com)
Licensed under Creative Commons: By Attribution 3.0
Wolf, Ghost Story – Co.Ag Music (YouTube)
Licensed under Creative Commons: By Attribution 3.0
[podcast src="https://html5-player.libsyn.com/embed/episode/id/24336627/height/90/theme/custom/thumbnail/no/direction/forward/render-playlist/no/custom-color/36ae74/" width="100%" scrolling="no" class="podcast-class" frameborder="0″ placement="bottom" primary_content_url="http://chtbl.com/track/7E11GF/traffic.libsyn.com/blurryphotos/CGS10.mp3″ libsyn_item_id="24336627″ height="90″ theme="custom" custom_color="#36ae74″ player_use_thumbnail="" use_download_link="use_download_link" download_link_text="" /]