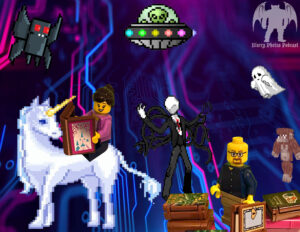 David is joined by folklorist Dr. Lynne McNeill to discuss Digital Folklore! A topic that spans culture, anthropology, sociology, and modern legends, Digital Folklore is a growing and evolving phenomenon happening right in front of us. Dr. McNeill, professor at Utah State University, is an expert on folklore and folklore in an online context in particular. She discusses Internet legend origins, settings, proliferation and more. How do these things fit in a cultural perspective? What makes something folklore and what does it look like online? Flora asks these questions and more in a very informative, spirited conversation on this episode of Blurry Photos! P.S. Don't forget to nominate Blurry Photos for the Chicago Reader's Best of Chicago 2020! (scroll down to the "City Life" drop down menu and scroll down to find "Best Podcast")
Find Dr. Mcneill's books here:
Folklore Rules: A Fun, Quick, and Useful Introduction to the Field of Academic Folklore Studies
Legend Tripping: A Contemporary Legend Casebook
Slenderman is Coming: Creepypasta and Contemporary Legends on the Internet
Music
Myst on the Moor – Kevin MacLeod (incompetech.com)
Licensed under Creative Commons: By Attribution 3.0
Click here to download the Episode!