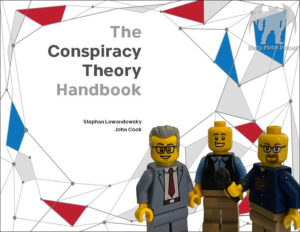 Flora invited the authors of The Conspiracy Theory Handbook, Dr. Stephan Lewandowsky and Dr. John Cook, on the podcast to discuss their recent work. A powerful little tool breaking down the ins and outs of conspiratorial thinking, The Conspiracy Theory Handbook seeks to inform on how to better engage in critical thinking. David has a large handful of questions for the gentlemen. It's a fascinating discussion into how conspiracies can be approached and how to engage theorists and those who aren't sure what to think. Give the episode a listen and then go read the Handbook for yourself! And don't forget to check out their other handbooks via the link below. Flora also announces the winner of the 2020 Miss Cryptid Contest and sweepstakes!
Read the Conspiracy Theory Handbook
Check out their other great handbooks
Music
Myst on the Moor  – Kevin MacLeod (incompetech.com)
Licensed under Creative Commons: By Attribution 3.0
Click here to download the Episode!