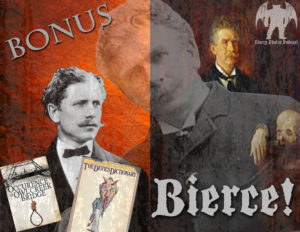 DB Spitzer invited Flora to join him on a barrage of Ambrose Bierce in this bonus episode of Blurry Photos! Black Clock Audio Tales, hosted by DB Spitzer, has covered Ambrose Bierce this month, and this is the first of a 2 part culmination on him. Flora and DB talk about the man and his works. Flora then reads An Occurrence at Owl Creek Bridge, and DB reads The Damned Thing. Part 2 will continue on Black Clock Audio Tales' feed. Ken Hite will join the fun on that one, and more tales will be read. Stay tuned for another big topic on Blurry Photos, dropping soon! In the meantime, enjoy this bonus crossover episode!
Music
Myst on the Moor, Long Note 2, Fantastic Dim Bar, The Dread – Kevin MacLeod (incompetech.com)
Licensed under Creative Commons: By Attribution 3.0
Sources
Click here to download the Episode!