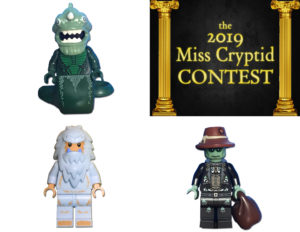 Regular competition draws to a close in week 3 of Blurry Photos' 2019 Miss Cryptid Contest! Our final contestants this year include California's Borrego Sandman, the South American El Silbon, and South Africa's Mamlambo. From desert to nightmares to rivers, the competition is hot and heavy. Pick your poison for who will move on to next week's finals and the chance to be crowned champion of this year's contest! We also find out who came out on top of Week 2 to be the second piece of the finalist puzzle. Make sure to head to the
Home
page to cast your vote and enter to win a prize pack of your own. Don't forget to check out Flora's new podcast
Quiz Quiz Bang Bang
, a pub trivia practice show, now on all major pod catchers!
Music
Myst on the Moor, Danse Macabre, Infada, Sancho Panza Gets a Latte, Thunderbird
 – Kevin MacLeod (incompetech.com) Licensed under Creative Commons: By Attribution 3.0
Sources
Rachal, AB. 
Darwin Confirmed – The Missing Link, Interview with a Man-Gorilla
. The Louisiana Democrat. Apr 12, 1876. Print. https://chroniclingamerica.loc.gov/lccn/sn82003389/1876-04-12/ed-1/seq-1/ Stoyanow, Victor. 
The Abominable Sandman of Borrego
. Desert Magazine. Jul 1964. Print. https://ia601006.us.archive.org/31/items/Desert-Magazine-1964-07/Desert-Magazine-1964-07.pdf Layne, Ken. 
the Known Unknown: Tales of the Yucca Man
. Longreads.com. 2015. Web. https://longreads.com/2018/04/25/the-known-unknown-tales-of-the-yucca-man/
El Silbon
. Leyendas Urbanas. 2013. Web. http://www.leyendas-urbanas.com/el-silbon/ Lamkin, Virginia. 
el Silbon, The Whistler
. Seeks Ghosts. Jun 18, 2014. Web. https://seeksghosts.blogspot.com/2014/06/el-silbon-whistler.html
Bane, Theresa. Encyclopedia of Vampire Mythology. McFarland. London. Feb 10, 2017. Print.
Kiernan, James. The Power of the Occult in Modern Africa: Continuity and Innovation in the Renewal of African Cosmologies. LIT Verlag. Berlin. 2006. pg 93-94
[podcast src="https://html5-player.libsyn.com/embed/episode/id/9929000/height/90/theme/custom/thumbnail/no/direction/forward/render-playlist/no/custom-color/36ae74/" height="90″ width="100%" placement="bottom" theme="custom"]