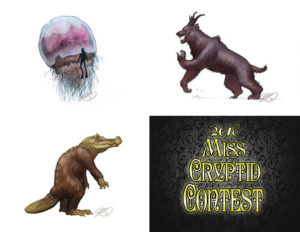 The cryptid conflict continues in week 2 of the 2018 Miss Cryptid Contest! The Miss Cryptid Contest's Week 2 lethal lovlies include the United States' Ozark Howler, the Afanc from Wales, and the South Pacific's Juranda Jellyfish. Legend and lore collide in this installment of the contest. Join Flora as he explores the folklore, fact, and fiction behind each of these deadly dames. Who will capture your heart (and try to eat it) this week? We also find out which of Week 1's contestants will be moving on to the finals! Head on over to the Blurry Photos home page to find the voting form. And quick tip – if the form doesn't appear on the page, try refreshing your browser (or try a different browser) to get it to appear.
Music
Danse Macabre, Black Vortex, Enter the Maze, Lord of the Land, Night of Chaos, Village Consort – Kevin MacLeod (incompetech.com)
Licensed under Creative Commons: By Attribution 3.0
Sources
Nadel, Darcie. "The Ozark Howler: Actual Cryptid or Elaborate Hoax?" Exemplore. Aug. 12, 2016. Web. https://exemplore.com/cryptids/The-Ozark-Howler-Mythical-Beast-or-Elaborate-Hoax

Cox, Dale. "The Ozark Howler." Explore Southern History. 2017. Web. http://www.exploresouthernhistory.com/ozarkhowler.html
Coleman, Loren. "Outing the Howler." Cryptozoology News. Mar. 19, 2008. Web. http://www.cryptozoonews.com/howler-redux/
Davis, Gryffydd. "The Afanc – Mythical Welsh Lake Monster." Transceltic. Mar. 13, 2013. Web. https://www.transceltic.com/welsh/afanc-mythical-welsh-lake-monster
Guest, Lady Charlotte. "The Mabinogion." Translation at Sacred Texts. 1877. Web. 107-109 http://www.sacred-texts.com/neu/celt/mab/mab10.htm
Johnson, Ben. "TheLegend of the River Conwy Afanc." Historic U.K. Web. https://www.historic-uk.com/HistoryUK/HistoryofWales/The-Legend-of-the-River-Conwy-Afanc/

Eberhart, George M. "Mysterious Creatures: A Guide to Cryptozoology" ABC-Clio, Santa Barbara, CA. 2002.

Farrington, Karen. "Marvels & Mysteries of the Unexplained." Arcturus Publishing Ltd. London. 2006.
[podcast src="https://html5-player.libsyn.com/embed/episode/id/6614836/height/90/theme/custom/autoplay/no/autonext/no/thumbnail/yes/preload/no/no_addthis/no/direction/forward/render-playlist/no/custom-color/52a372/" height="90″ width="100%" placement="bottom" theme="custom"]